FREQUENTLY ASKED QUESTIONS
This page contains answers to our most frequently asked questions or requested information. Scroll down to view general topics or use the magnifying glass icon below to search for a specific key word.
General Questions
What is Six3 Tile and what makes it unique?
Six3 Tile is an alternative to certain kinds of traditional ceramic tile. It's a manufactured panel that, when installed and grouted, looks and feels like real ceramic tile, but installs much faster. Think of Six3 Tile as a sheet of individual tiles, but the pattern is cut into the panel, so essentially a single tile is being installed.
Six3 Tile is unique because it is so unlike ceramic tile - it's flexible, a large single panel, installs without special tools or skills - but mimics real ceramic tile better than our competitors.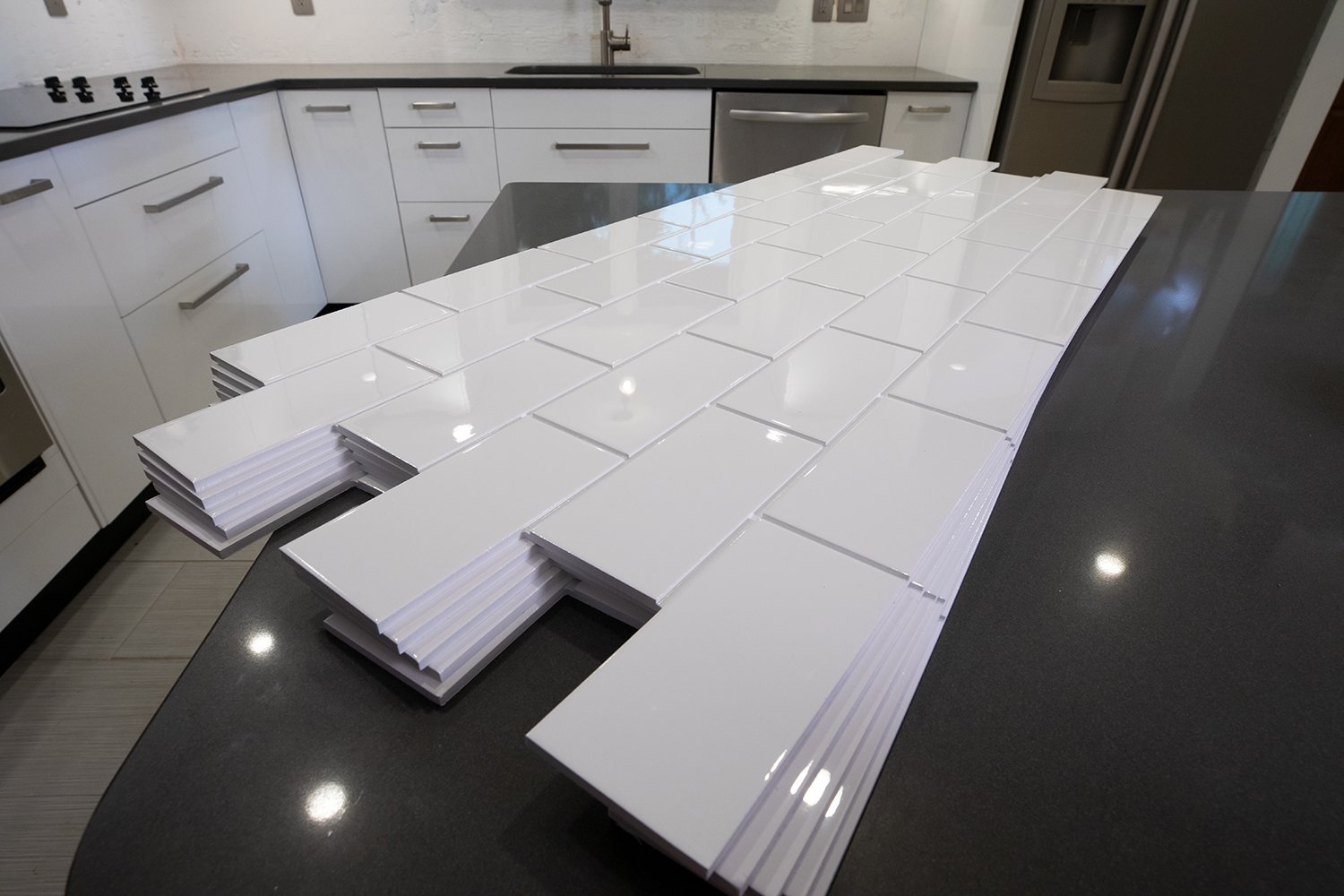 Is it ceramic tile? What is it made of?
No - it is not ceramic tile. Or any other hard, inflexible material for that matter. Six3 Tile is engineered from large PVC sheets. Our tile patterns are cut into the PVC sheet using CNC machines, then coated with specialty finishes to mimic the surface qualities of ceramic tile. When installed and grouted, Six3 Tile is practically indistinguishable from ceramic tile, but it is definitely NOT ceramic tile!
Where is Six3Tile made? Is it made in the USA?
Yes.
Six Tile is designed, manufactured and shipped nationwide from our plant in Lancaster, South Carolina.
Six3 Tile products are sourced entirely in the USA. Not only does this benefit our economy, but it greatly reduces our reliance on the overseas supply chain.
Does Six3 Tile come with a warranty?
Yes.
Six3 Tile comes with a one-year limited warranty.
I understand Six3 Tile is sold in "kits". What's in a kit? How many kits do I need for a kitchen backsplash? Or a shower or tub surround?
Our Backsplash Kit contains five tile panels covering about 30 square feet. Four panels are typically used for the main linear run of backsplash, with the fifth panel used for the additional height needed behind a stove and/or under a microwave. So each backsplash kit will cover approximately 15 linear feet.
Visit our Resources page and download the Backsplash Tech Sheet for detailed information.
Our Tub Surround Kit contains nine panels, enough to cover a single standard 60" tub enclosure. Our Shower Kits contains 12 panels, enough to cover a single standard 60" shower stall. Download our Tub Surround & Shower Tech Sheet from our Resources page.
Purchasing, Design & Shipping
Where can I order Six3Tile?
Six3 Tile is currently available through our distribution partners, depending on your market and geographic location. Please call us at 843.410.9754 or email us at info@alerismfg.com for information on our distributor nearest you.
Do you sell to individuals, such as homeowners?
We do not sell our tile products to individuals or through retail outlets at this time. Our products are sold through distributors for the professional trades.
Who can I contact for more information?
We have a wide variety of information available in our Resources and Videos pages on our website, and in this FAQ section. You can contact us at info@alerismfg.com if you have additional questions and need to speak with someone directly. We'll log your inquiry and promptly respond.
Do Six3 Tile panels flex?
Six3 Tiles panels are flexible and are not rigid. They can easily be installed over substrates that are not perfectly flat or have some minor curvature, or during installations which require the panel to flex in order to fit into a tight space. But Six3 Tile is not designed to be installed on cylindrical surfaces.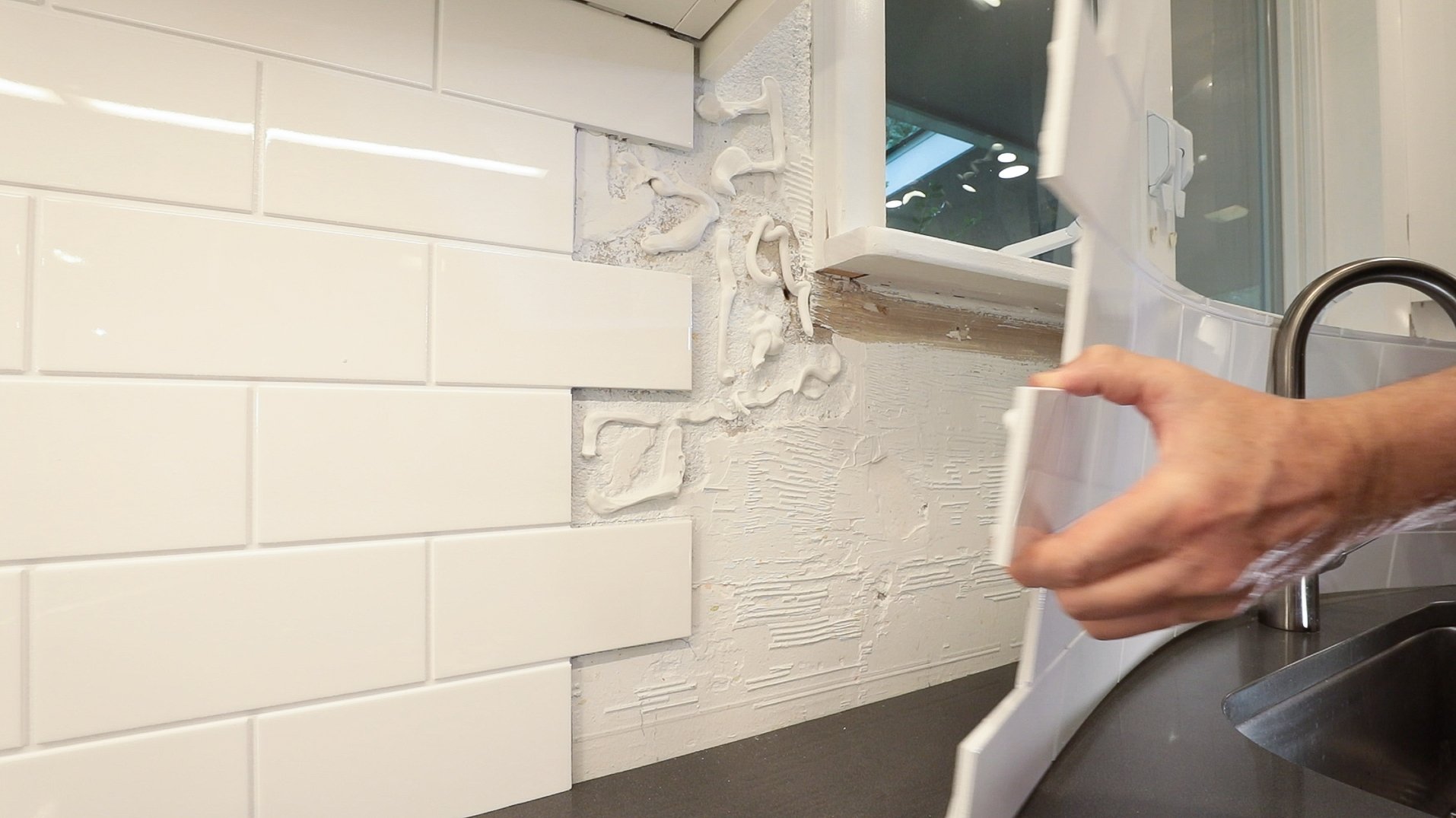 What applications can Six3 Tile be used for?
Six3 Tile Backsplash Kits are designed to be used on any vertical, non-wet application (other than an occasional splash), such as kitchen backsplashes and walls.
Tub Surround and Shower Kits are specifically designed to provide a water-tight seal (when installed properly) for use in wet applications.
Can Six3 Tile be used on floors or outdoors?
Six3 Tile products are not currently designed for load-bearing applications, such as floors, or outdoor applications.
How do you ship your tile kits?
We ship most of our tile products through Less Than Load (LTL).
What's your freight policy?
Domestic orders greater than $8,500 ship free freight.
Domestic orders less than $8,500 are shipped pre-paid freight. We will invoice the customer for freight.
Can your tile kits be shipped via UPS?
Our Backsplash Kits can be shipped via UPS for smaller orders. However, most orders, especially larger orders, ship via LTL. We can work with you to determine the most efficient shipping mode based on your order.
Our Tub Surround and Shower Kits are mounted to skids and cannot be shipped via UPS because they exceed the size parameters allowed by UPS. Freight is the only way we can ship these kits.
Installation Questions
Is Six3 Tile easy to install?
Yes! Think of it like installing paneling on a wall. You measure the wall, cut the paneling based on your measurements, then put up the full sheet of paneling and you're done. It's like that - and you're ready to grout.
Do I need special skills or tools to install Six3 Tile?
No special tile installation skills or tools are needed. You do not need ceramic tile cutters, diamond blades or wet saws.
Installing Six3 Tile is like putting up paneling. The tools needed are probably already in your toolbox. Check out our Resources page for complete installation instructions, tools lists and technical bulletins.
How long should it take me to install a Six3 Tile backsplash?
Depending on the number of light switches and outlets, a typical single-walled backsplash should go up in about an hour. At which point it's ready for grout.

Even installations involving intricate cuts will not add significant time.
How long should it take me to install a tub surround or shower kit?
Once the surface is prepped and ready for tile, a typical tub surround or shower should take less than two hours to install, depending on the amount of type of access holes that need to be cut for fixtures.
Do I have to use grout?
At this time, our products require the use of grout as the final step to make Six3 Tile look like a professional ceramic tile project.
What grout should I use?
We recommend using only unsanded or non-sanded grout on Six3 Tile. Sanded grout will likely dull the finished surface of the tile sheet - we tested it. Use any color you wish! And it doesn't matter if the grout needs to be mixed or is ready to use.
How do I prepare the surface?
For a standard wall surfaces, like a backsplash or accent wall (bar back, wainscoting, etc.), no complex prep is necessary. Make sure the surface is clean, solid and relatively smooth. But it does not have to be perfect - unlike traditional tile, small holes or small loose gypsum will be covered up by the tile sheet. The surface needs to be solid enough to accept and hold mastic or adhesive. Six3 Tile will flex, so the backing surface does not have to be perfectly flat.
Can I use any type of saw to cut Six3 Tile?
We've tested numerous types of saws to determine the best performance and efficiency while reducing the chance of chipping or splitting. Circular saws (both standard and compact) and oscillating saw are best. You can even cut Six3 Tile with a utility knife or rotary knife in a pinch.
While you can any kind of saw to cut Six3 Tile, we strongly recommend against using any type of reciprocating power tool, such jigsaws or sawzalls.
What materials can Six3 Tile be installed over?
Six3 Tile can be installed over standard wallboard (backsplash only), moisture-resistant wallboard, cement board and even existing ceramic tile.
Do I have to install cement backer board before installing Six3 Tile?
Not necessarily. For backsplashes in non-wet applications, no.
For tub surrounds and showers, abide by your local building codes and ensure the corners are properly sealed with silicone.
Can I install Six3 Tile over existing ceramic tile?
Yes! But you should construction adhesive, not type-1 mastic, to get the best results. Otherwise, the installation process is exactly the same no matter what the underlying substrate is made from.
What adhesives are approved for installing Six3 Tile?
Type-1 mastic and construction adhesives are recommended. For the full list of tested adhesives, visit our Resources page.
Do I need to use tile edging?
For Six3 Tile installations that result in an unfinished edge, we recommend using tile edging for a polished and professional look.
Standard tile edge trim can be used to finish any exposed tile edges. There is a wide variety of edge options, including PVC, aluminum, stainless steel and chrome. You can even use traditional tile edge pieces for an ultra high-end look, including ceramic, marble and terra cotta.
How do the tub surround and shower kits fit together? What is "Seam Seal"?
The tile sheets are designed to interlock together (with PVC cement) when stacked, forming a watertight seal. The joint is also designed to automatically create a grout channel so no tile spacers are necessary. This process will be used throughout the entire install.
"Seam Seal" is our name for describing the interlocking tongue/channel assembly of our tub surround and shower panels. Once installed, the seam between tile panels will not allow water to penetrate. See our Resources page for more information.
Can I easily drill through Six3 Tile?
Yes! Standard hole saws and drill bits can be used to cut access holes in seconds. Since Six3 Tile is made of PVC, no specialized diamond-tipped, wet or ceramic saws or bits are needed.
Do I need tile spacers to install Six3 Tile?
Tile spacers are recommended only for Backsplash kits and are only needed for easy spacing between tile panels. Spacers are not needed for Tub Surround or Shower kits.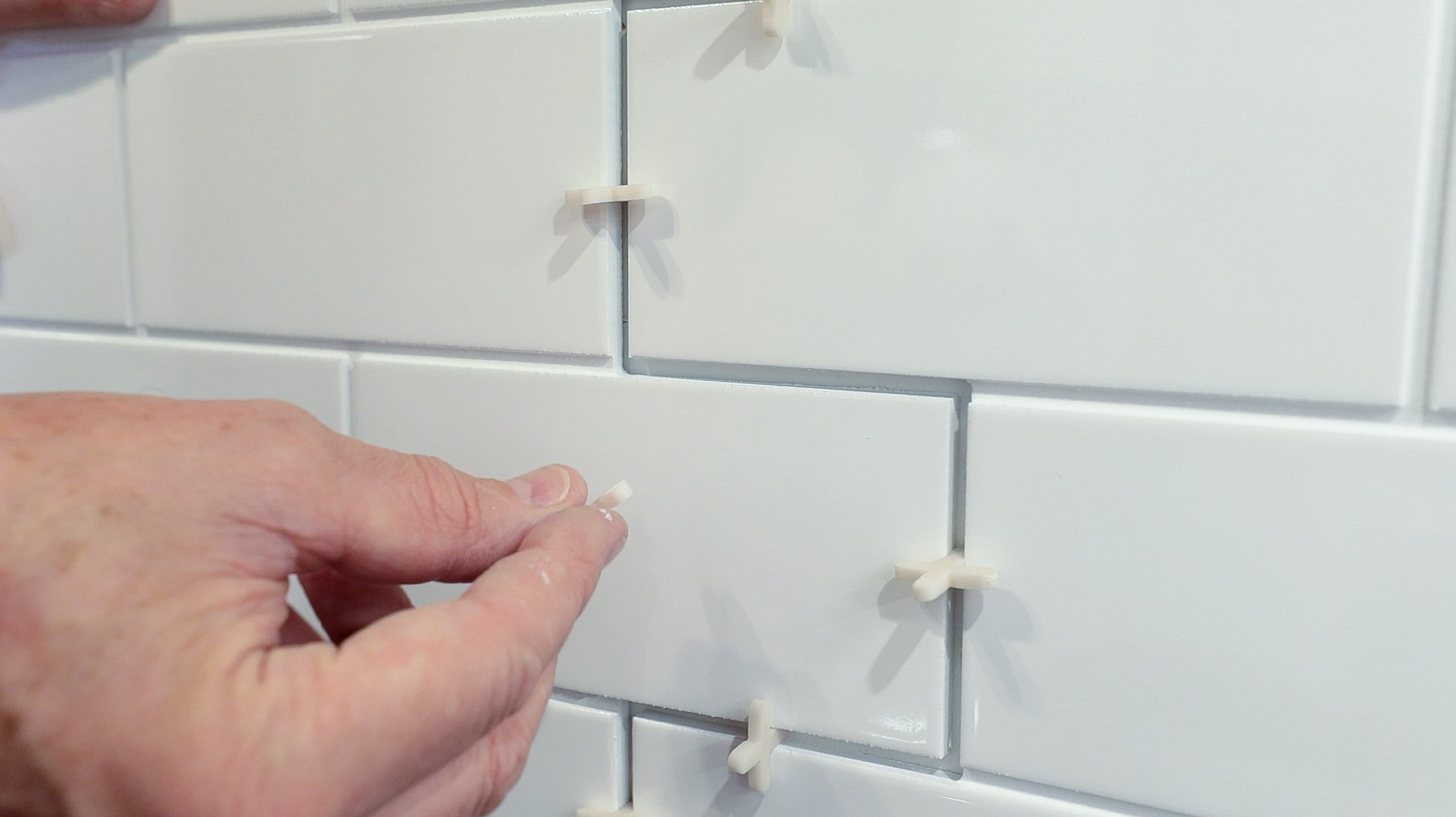 Care and Maintenance
What's the best way to clean Six3Tile?
With a few exceptions, the same techniques to clean and maintain Six3 Tile® walls are the same used on ceramic tile. The Six3 Tile surface is strong, durable and can stand up to normal use, but it can also degrade with incompatible cleaning products and techniques. See our Resources page to download our Care & Maintenance guide.
What if I need to replace a single tile?
It's very easy to replace a single tile (or multiple tiles) that's become damaged after installation. An oscillating saw makes quick work of it. Simply cut the tile out of the sheet on the wall, and replace it with a single tile cut from a leftover sheet. Glue it in, re-grout and you're done.
How do I store Six3Tile?
It's preferable to store Six3Tile sheets horizontally, on level supports, off the ground to prevent sagging. Cover loosely with waterproof material to prevent condensation from forming while protecting against weather, direct sunlight, surface contamination, and construction traffic. Six3 Tile can be stored vertically, on edge, but for optimum weight distribution, store with the longest side down.