Six3Tile Shower & Backsplash Tile Edge Trim Options
Exposed tile edges can ruin a tiling job, making an installation look unfinished. To ensure that your Six3Tile shower and backsplash installations look as clean and professional as possible, you should add trim. But what are the best options when working with Six3Tile? We can help with that. In this article, we'll share several options to cover up exposed tile panel edges, and we'll also give you some pointers to ensure that your edge trim install goes off without a hitch.
Types of Edging for Six3Tile Panels
First, we should clarify there is no bull-nose trim for Six3Tile. Instead, we've designed our product to be compatible with all tile edge trim solutions readily available in your market.
Depending on the job, your Six3Tile panels may not always need edging. For instance, if the ends of the tile panels end at a perpendicular wall or against a door jam, no edging will be needed. The end of the panels won't be showing in these cases.
But there will be situations where the tile panels' edges will be exposed. And these exposed edges could pop up in these areas:
Outside corner
Top or bottom edge (or both)
An area transitioning to another material
The end of your backsplash
Sometimes, you can hide that exposed edge with grout or caulk, specifically when it's at the bottom of a kitchen backsplash or in the inside corner of a shower or tub surround. But when you need a tile edge trim solution, there are many options to choose from. Here are a few of the basic characteristics:
Most common substrates:
Edge profiles:
L-Shaped - used to end and transition to a painted wall (typically)
Round Edge (Bullnose) - used for outside corners
J-shaped - usually manufactured to accompany a specific material
Reducers - made to transition from one tile thickness to another
T-shaped or surface joint - made to bridge two same-thickness surfaces
Finishes:
Most every edge trim manufacturer offers every type of finish you can imagine. The most popular with Six3Tile are the Aluminum solutions. Here are a few of the fan-favorite finishes:
Bright White color coated aluminum
Black color-coated aluminum
Satin Anodized Aluminum
Brushed Nickel Anodized Aluminum
Bright Chrome Anodized Aluminum
Satin Nickle Anodized Aluminum
Antique Bronze Anodized Aluminum
Matte Black Anodized Aluminum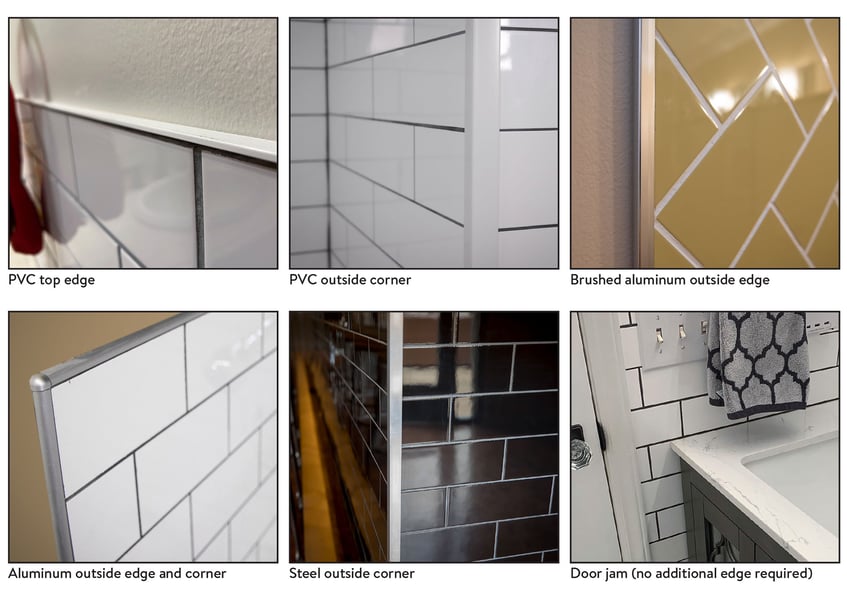 How to Install Tile Edge Trim for Six3Tile
Installing tile edge trim with Six3Tile panels is easy to do. Just know that, when installing trim on exposed ends on the sides or the top, it should be done at the time of the tile installation. Follow the below instructions for the best results.
Choose your edging, measure, and trim it to fit.
There are two ways to apply the edge trim:

Prior to panel installation; apply some adhesive to the edge trim and press the trim in place on the wall.
Apply extra adhesive near the edge of the panel where you are going to apply the trim. Apply the panel to the wall. Slide the trim into place.

If using method (2.1) above, simply apply your piece of Six3Tile after you have placed your edge trim. Press the tile into the wall, ensuring that the trim is covering the exposed edge of the tile panel.

Pro-Tip: If using L-Shape or rounded edge trim, to get a professional look, leave an ⅛" gap between the edge of the tile and the trim for the grout to fill.
Other Things to Consider
If you'll be installing Six3Tile over existing tile, know that some edging options won't work. For instance, if the existing tile is cemented to the wall, you won't be able to use slide-behind edge trim. In this type of situation, you'd be better off using outside corner-style edging. Measure how much depth the edging will need to cover before selecting your edge trim. Use heavy-duty construction adhesive for outside corner edging.
Tile Edge Trim for Corners: Mitre Cuts vs. Inserts
You can cut PVC edge trim with a mitre saw or by using a 45º speed square. There are many metal edge trim styles that allow for inside and outside corner trim pieces. That way you won't need to do mitre cuts. It can also help you achieve an upscale result.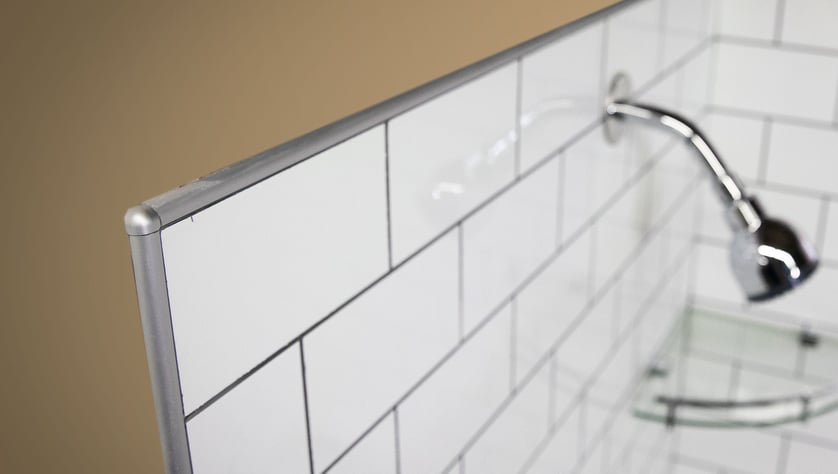 Tile Edge Trim for Wet Applications
When using edge trim for shower and tub surrounds or for other wet applications, it can be helpful to use waterproof caulk or silicone. It'll create a barrier, preventing moisture and water from getting through the trim and onto the wall behind the tile panels.
So, there you have it - everything you need to know about your shower and backsplash tile edge trim options with Six3Tile. For more information, browse our customer resources or frequently asked questions. You can also reach out to us directly for any questions or concerns. Happy tiling!